Superfood Super Bowl
February 2, 2017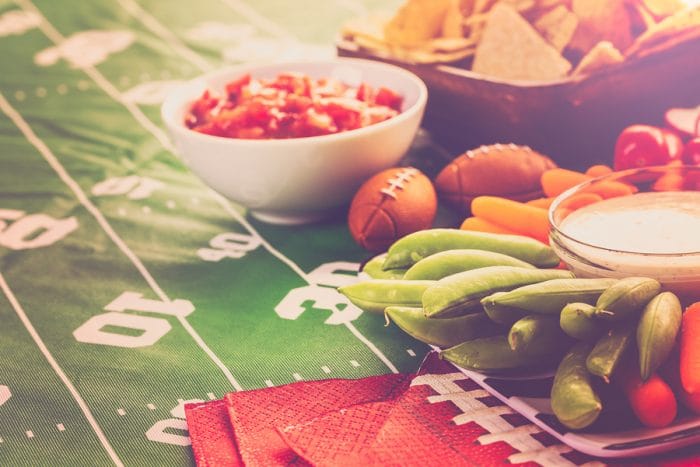 A healthier way to Super Bowl
Let's make it a superfood super bowl this year!  Instead of overloading on fried and sauced up foods that leave you feeling stuffed and heavy, let's make it a bit leaner so that you feel like dancing when Lady Gaga hits that stage.
The key to good party-foods is to start with simple, good-for-you ingredients that fill you up, without weighing you down and taste delicious!  Here's a healthy hand-off of superfood game-friendly recipes.
Baked Zucchini Chips
Your guests will flip over a bowl of these healthy zucchini chips, promise!  They are crispy enough to eat on their own or the make the perfect chip to dip in your homemade guacamole or salsa with some sliced fresh veggies.  And feel free to get creative with your crudite, purple and orange carrots, green and white cauliflower, snap peas, sun-dried tomatoes, broccoli florets, plus orange and yellow peppers.
If you want to give the guac a rest, try grilling up avocado shells for guests instead.  Everyone will get their avocado fix and be super impressed.  Just cut avocados in half and remove the pit, drizzle with some fresh lemon juice and lightly brush some olive oil on the cut side. Place cut side down on a grill or grill pan for 2 minutes and their done! Serve hot or room temperature.
Butternut Squash Fries
A party without fries just isn't the same. Instead of the usual fry-options try this butternut version that is fiber-rich and antioxidant packed.
Roasted Chickpeas
This recipe is a quick way to flavor up chickpeas, which deliver a big protein and fiber double punch.  This recipe is super easy to make and lasts for up to 5 days in an airtight container.  This is also a great dish to make to bring with you to someone else's viewing party.
Chicken Lettuce Tacos
These flavorful lettuce tacos are filled with lean protein you can really sink your teeth into without missing those wings.  They are also high in fiber that will fill your guests up and leave everything feeling deliciously satisfied.
No matter which team you root for (NY Giants 2018!) everyone will feel like a winner with this fun and easy menu. Happy Super Bowl everyone!