Stracciatella Soup
January 29, 2016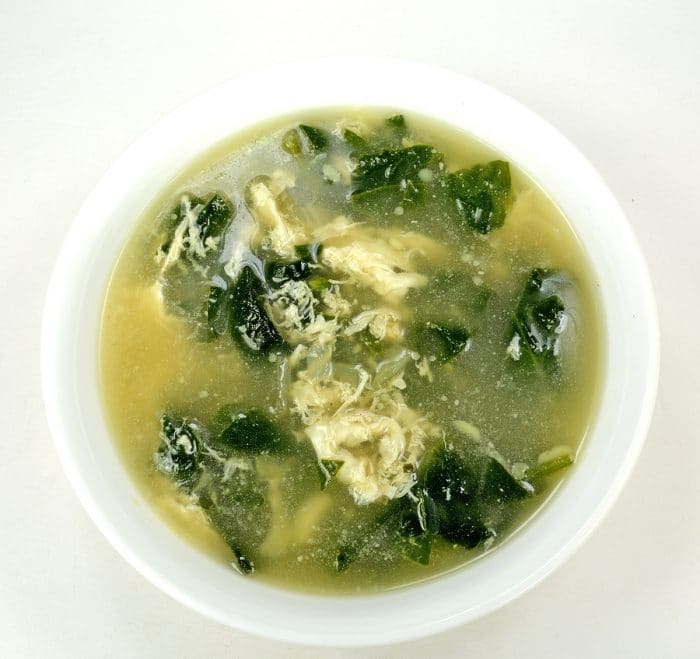 I basically live off of soup in the winter and this is one of my favorites because my dad would make it all time when I was growing up.  Whether you are trying to warm up from the cold or trying to kick a cold, this is the perfect comfort dish with it's soothing chicken broth and protein-packed eggs, it is the Italian version of "Jewish Penicillin."  I like to add in some extra spinach for a dose of fiber and added fullness. It's quick, simple, delicious and cozy…everything I'm looking for in a winter soup.
Serves 4
Ingredients:
6 cups of Chicken Bone Stock (if you're going store bought, as I often do, I like this one)
6 cups of spinach, trimmed and washed
2 cups of Pecorino-Romano cheese, finely grated
Fresh ground pepper
4 eggs, beaten well
Directions:
Bring broth to a boil in a large pot over high heat.  Stir in spinach, 1 cup of cheese and 1/4 teaspoon of pepper, and return to a boil.
Reduce heat to a gentle simmer. Gently pour in eggs in a circular motion to every distribute them on the surface of the soup. Return soup to a summer and cook until eggs are set, about 1-1 1/2 minutes.
Divide among 4 bowls. Evenly top each bowl off with the remaining cheese and season with pepper. Serve and enjoy!