The Healthiest Food Trends for 2018
January 24, 2018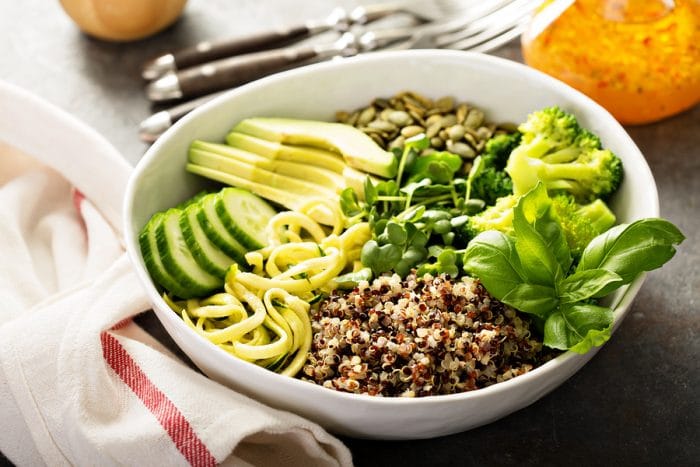 Add these healthy new food trends for 2018 to your grocery list!
A new year always brings in new trends both on the runways and on the supermarket shelves.  Here is my list of the healthiest food trends of 2018 that you should be checking out.
Pulse Pasta.  Pulses are the nutrient-packed dry, edible seeds of beans, lentils, chickpeas, and peas.  They are a great source of protein, fiber, vitamins, and minerals.  Pulses are now being used to re-make some of your favorite starchy items, like pasta and chips, giving them a total nutrition make-over! Swap your traditional pasta for a pulse-pasta, and get a healthy dose of protein and fiber for the same pasta-flavor.  My favorite brands are Explore Cuisine Pasta and Banza.
Sprouted-Grains.  Sprouted-grains are grains that have been soaked in water until they begin to sprout.  This process transforms the grains into a living food, giving them added nutrition benefits compared to their regular, un-sprouted versions.  My favorite brands for breads and english muffins are Alvarado St. Bakery and Ezekiel 4:9.
Riced Vegetables.  Riced veggies are still going strong for 2018.  What started with cauliflower has now branched out this year to include broccoli, carrots, butternut squash, and beets.  A great source of fiber, these remain high on my grocery list must-haves for 2018.  My favorite brands here are Boulder Canyon, Birdseye, and Trader Joe's.
Probiotics.  Probiotics are those good kinds of gut bacteria that you have been hearing about for a while now.  They promote a healthy digestive tract and boost a strong immune system.  As the research on their health benefits grows, so does their presence in foods, so you can get them in from so much more than just yogurt!  Wildbrine is a brand with probiotic-rich sirarchas, Farmhouse Culture makes a line of delicious fermented veggies, like beets and carrots, loaded in probiotics, and Good Culture Cottage Cheese is a delicious probiotic-rich cottage cheese.
Want to know more about what to be shopping for in the supermarket? Book a consultation for your own customized grocery-list, supermarket tour, recipes, or personalized wellness plan.