Great Greens Detox Salad
December 9, 2015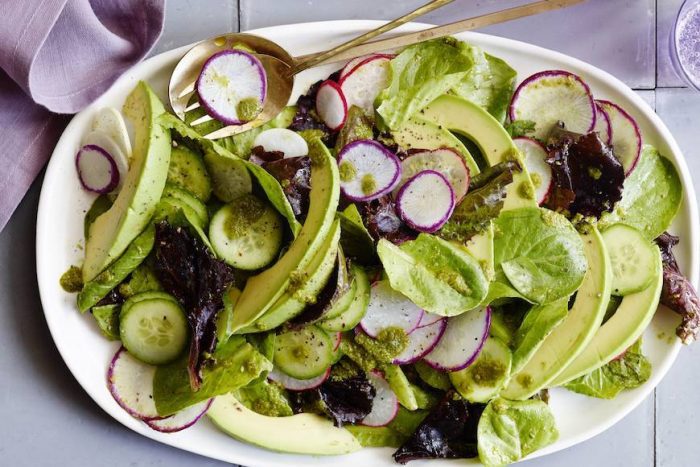 Sometimes even dietitians can indulge too much during a weekend or on vacation, after all, we are people too!  And when that happens to me, this is my go-to meal when I need to detox and reboot.  It is satisfying and flavorful and leaves me feeling healthy, focused and energized.  I just got home from traveling in Italy, where pasta and gelato were a very enjoyed daily occurrence.  But now that I am home, it is time to get back to normal with this salad.
Ingredients:
4 cups of mixed lettuce (mescaline, romaine, arugula, baby spinach, Boston, bibb–pick your favorites!)
2 cucumbers, thinly sliced
2 radishes, thinly sliced
1/2 an avocado, thinly sliced
Freshly cracked pepper
3 Tbsp Basil Vinaigrette: 1 chopped shallot, 2 cups fresh basil (stems removed), 1/2 tsp red pepper flakes, 1/2 cup olive oil, 2 Tbsp red wine vinegar, dash of salt; blend all ingredients together until smooth.
Directions:
In a large bowl, mix lettuce, radishes and cucumbers together with vinaigrette dressing and add pepper to taste.  Arrange avocado on top and serve.
*Note: You can make the dressing in advance and store in your refrigerator for up to 3 days.  I always keep some pre-made to save me time.