Golden Milk Energy Balls
March 5, 2017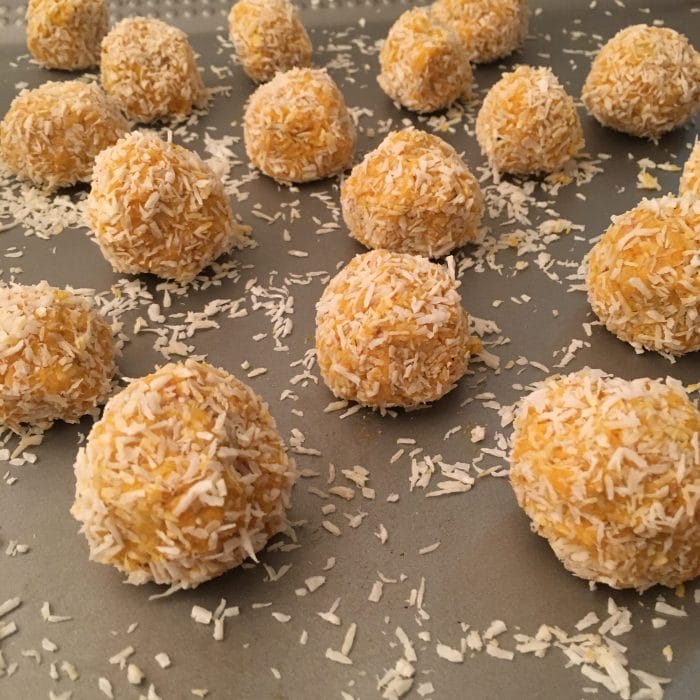 I am always in the market for a new snack and these Golden Milk Energy Balls are my latest obsession.  While hanging out with my good friend and fellow RD, Daniela (aka The Acrobat Nutritionist) we decided to make our favorite drink of 2017, the Golden Milk Latte, into our favorite trend, the energy ball.  And I have to say, we really nailed it!!!
We combined the anti-inflammaorty spice, turmeric with a sweet potato for fiber and Siggi's coconut yogurt for protein, plus ginger, cinnamon, and black pepper, all keeping with the traditional flavors and benefits of golden milk.  Eat 2 of these balls pre-workout or as your mid-afternoon snack for a great energy boost.  Keep them in fridge for up to 1 week or freeze them to make them last longer.
Yields 18 balls (servings size: 2 balls)
Ingredients:
1/4 cup Siggi's coconut yogurt
1/2 cup pitted dates
1 cup almond meal
1 sweet potato, baked and peeled
1/2 teaspoon turmeric
1/4 teaspoon salt
1/4 teaspoon ginger
1/2 teaspoon cinnamon
1/4 teaspoon black pepper
3/4 cup unsweetened shredded coconut, for rolling
Directions:
Combine all ingredients in a food processor and pulse until well combined
Form mixture into 1-inch balls and roll in shredded coconut topping
Place balls on a flat baking sheet and refrigerate for 20 minutes or until firm
Enjoy!