Gift Guide 2016
December 13, 2016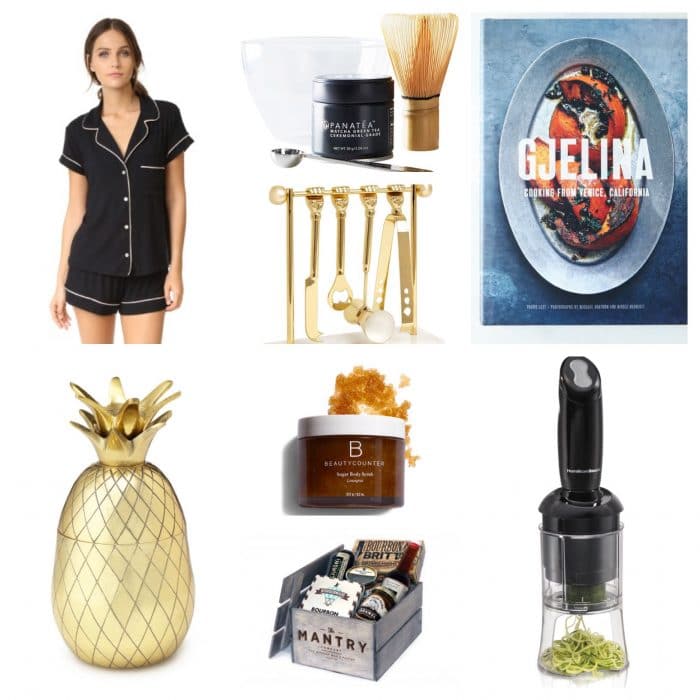 All the gifts I love to give.
With the holidays only 2 weeks away, I wanted to share my favorite foodie finds and wellness-focused gifts that I can't wait to give this holiday season.   I hope you love these gifts as much as I do and I would love to hear what else you're giving your loved ones!
Home Goodies: A big fan of the home bar, I am always looking for cool accessories to add and gift.  This adorable pineapple tumbler is great addition for anyone's bar to serve a drink a in, or use it as a serving piece for guacamole or crudités.  I am also obsessed with this Jonathan Alder barbell barest.  And I always love making my own mix-and match collection of bowls or plates for my friends who love to host parties.
Cooking Fun: It is no secret I am a big fan of cooking and eating whole foods, so it should come as no surprise that cookbooks are my favorite gift to give. My current favorites are: Gjelina, Simple, Plenty More, plus this great pregnancy cookbook for the new moms and this for the newbie cooks out there.  Or if your loved one is more into gadgets, then definitely pick up this electric Inspirilizer, because that veggie-noodle trend is still going strong for 2017.
Good Vibes Only: I love giving gifts that are a little pampering and reinforce self-care.  I love the skin care set from Beauty Counter, a brand that is devoted to healthier, safer products for both men and women.  I also love creating cozy gift sets for my friends like these super soft PJ's and slippers. And I absolutely love giving a personalized mug, like these, paired with my favorite tea (matcha, duh!) from Panatea.
Healthy and Wise: For someone looking to step up their health and wellness for 2017 give them the gift of 1-on-1 nutrition counseling by contacting us here.
For Your Guy: Since I discovered Mantry, last holiday season, it continues to be my favorite guy-focused foodie gift!  Specialty foods and drinks curated just for the guys, perfectly packaged and delivered to his doorstep. Trust me, it will be your favorite gift to give too.
For more gift inspiration, check out the past gift guides too!