Currently Craving Roasted Chickpeas
January 20, 2017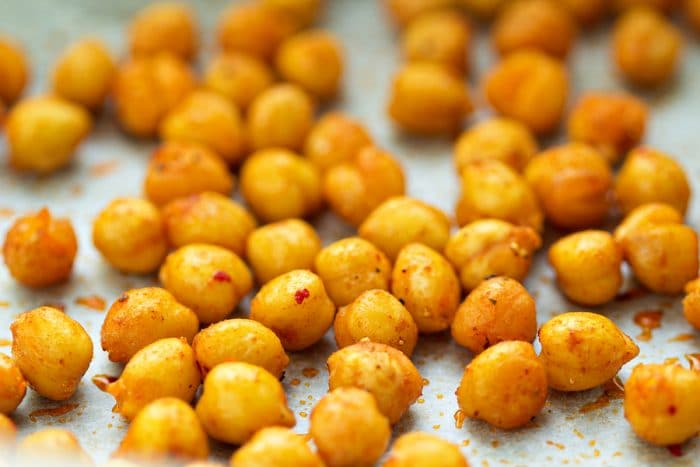 Crave-worthy snack alert
I cannot get enough chickpeas but I prefer mine with a little bite to them, so I am currently craving these amazingly crunchy roasted chickpeas.  First off, chickpeas are a nutrition powerhouse in a tiny package! Just 1 serving (1/2 cup) give you 7.5 grams of protein and 6.5 grams of fiber, this satiating combo will help fill you up and keep you full, so that waistline can stay in check.  If you're looking to loose weight, adding these guys into your day will help keep you from over snacking and over eating.  Chickpeas are also a great source of manganese, folate, zinc, and vitamins K and C which help fight inflammation, increase bone strength and health, and help improve cognition.  What's not to love?!
Try this crunchy, spicy recipe and you'll be craving them just as much as I am.  I toss 1/2 cup of these roasted chickpeas into ziplock baggies to take to the office for a snack and I always make them when having guests over because they go perfectly with a cocktail.  Store them in an airtight container and they will last up to 5 days in the fridge.
Ingredients:
2 cans chickpeas
3 tablespoons of olive oil
1/2 teaspoon red pepper flakes (add more for an extra kick)
1/2 teaspoon garlic powder
1/2 teaspoon paprika
salt to taste
Directions:
Preheat oven to 400 degrees.  Drain and rinse chickpeas well, scatter the on a paper-towel-lined baking sheet to dry. Let stand for 15 minutes.
Remove towel and drizzle on olive oil. Toss chickpeas to coat them all.
Roast for 45 minutes, or until cries and golden. Stirring occasionally.
Toss with pepper, garlic powder, and paprika. Add a touch of salt as desired.
Serve hot or at room temperature.