Currently Craving Boulder Canyon Riced Vegetables
November 25, 2016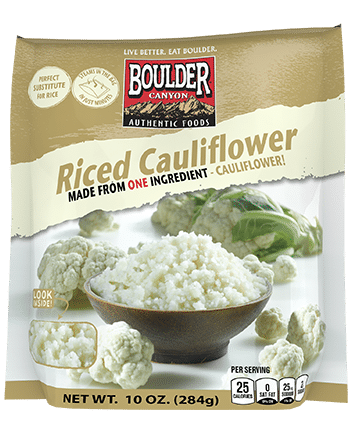 Food processors, need not apply.
I am currently craving (big time!) Boulder Canyon Riced Vegetables.  Grain-free, vegetable rice is having a total moment right now, and I am loving it!  But let's be honest, breaking out that food processor-and cleaning it- can be a bit daunting and exhausting at times.  Which is why I was so excited to discover these frozen, pre-riced vegetables from Boulder Canyon; a total game changer!
They are the perfect convenience food made from 100% vegetables.  You can pick from riced cauliflower, broccoli, carrots or sweet potatoes, but you cannot go wrong with whichever veg you choose.   Since discovering them, I have kept a bag on hand at all times of their plain riced broccoli and plain riced cauliflower, so that I am always ready to go.  I love using it for this cauliflower rice side dish, or for a broccoli-rice stir-fry, or as a base for a vegetable salad.  Boulder Canyon's Riced Vegetables are definitely an item to check out and a permeant freezer-food staple.  Head here to find out where you can find them closest to you.