Cocoa-Matcha Energy Balls
April 13, 2016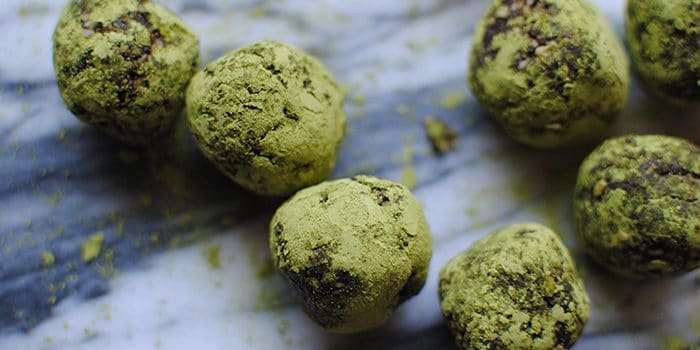 I am as much a matcha fan as I am a chocolate fan (i.e. HUGE), so these cocoa-matcha energy balls have been a great discovery!  They are the perfect pairing of sweet and satisfying, making them my ultimate go-to treat for a snack or dessert.  If the flavor combo isn't enough of a sell, then the fact that this combo will fight stress, while keeping you focused and energized definitely should do the trick!
One serving = 2 balls.
Ingredients:
1/2 cup pitted dates
1/2 cup raw almonds
1/4 cup unsweetened cocoa
1/4 cup shredded coconut
3 scoops matcha powder
1 tablespoon unsweetened almond milk
Directions:
Add dates and almonds to a blender and blend until they form a sticky clump.
Break up the clump in the blender and add cocoa, coconut, matcha and almond milk and blend until another sticky clump forms.
Remove mixture and hand roll pieces into 12 balls. Dust with additional matcha. Enjoy immediately or store in refrigerator for up to 2 weeks.  Additionally, you can store them in your freezer to really make them last!