Chicken Lettuce Tacos
February 16, 2016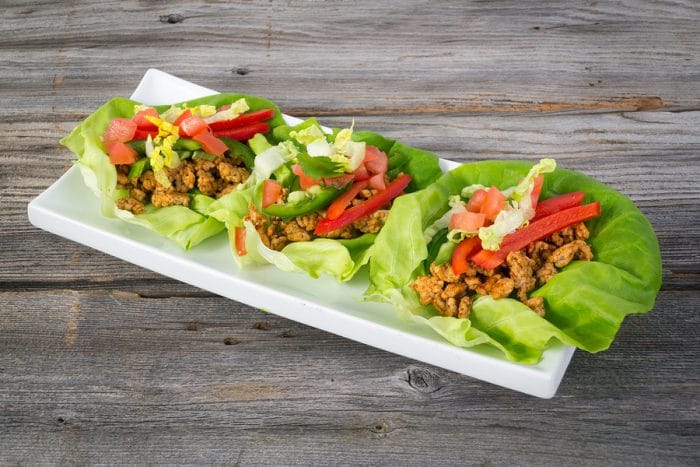 I love these chicken lettuce tacos, it's a great fiber-packed twist to the traditional taco.  Don't get me wrong, I love the traditional taco too (a lot!) but sometimes a little extra veg can go a long way.
Makes 8 3-taco servings
Ingredients:
2 Tbsp rice vinegar
1 medium carrot, thinly sliced
1 yellow bell pepper, thinly sliced
1/2 mango, peeled and cut into strips
1 Tbsp olive oil
2 Tbsp fresh lime juice
1 Tbsp fresh minced ginger
2 thin chicken cutlets (3 ounces each)
24 small leaves fresh Bibb lettuce (about 3 heads)
Avocado
1/4 cup fresh cilantro
Salt and pepper
Directions:
In a medium bowl,  combine vinegar, touch of salt, carrot, mango and peppers; let stand for at least 30 minutes. Pro-tip: you can make this up to 24 hours in advance and keep in the fridge.
Heat grill or a grill pan on high and lightly coat with oil.  In a dish combine lime juice, ginger, oil, with salt and pepper to taste. Add chicken and let marinate for 5 minutes.  Grill chicken until cooked throughout, about 3 minutes per side.  Let cool on a plate.
Once cooled, thinly slice chicken and combine with carrot mixture.  Divide mixture among lettuce leaves.  Add slices of avocado to each lettuce cup and sprinkle with cilantro.