Cauliflower Rice
April 6, 2016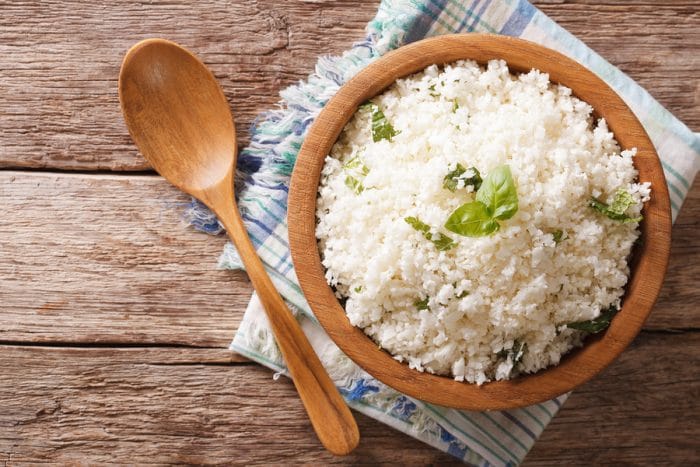 This cauliflower rice is loaded in vegetables and packed with flavor!  It is the ultimate side dish to any chicken, steak or fish entree or even on it's own for as a great snack.  This grain-free "rice" is made totally from vegetables and is packed with fiber, which will keep you full and satisfied.  You can even add in some scrambled eggs and have it as your main dish.
One serving = 1 cup.
Recipe makes 4 servings.
Ingredients:
1 head of cauliflower, cored and broken into pieces (about 5 1/2 cups)
2 tablespoons coconut oil
Salt and fresh ground pepper
3 carrots carrots, peeled and diced (1 cup)
1 cup yellow onion, chopped
1 tablespoon fresh garlic, minced
1 cup peas, fresh or thawed
Directions:
Pulse cauliflower florets in 2 batches in a food processor until finely chopped, but not pureed, about 5-6 quick pulses. (Or save time by checking out the tip below!)
Heat a large pan over high and add 2 teaspoons oil, carrots and onion to pan, cook for 2-3 minutes until softened and beginning to brown.  Add garlic and cook for 1 minute.  Add cauliflower, cook stirring occasionally and scraping the bottom of the pan, until nearly tender, about 2 minutes.
Remove from pan into large bowl and stir in peas. Optional: stir in 2 Tbsps of low-sodium soy sauce. Season with salt and pepper to taste.
Pro Tip:  You can skip the food processor and instead check out this frozen pre-riced cauliflower, the perfect quick-fix.