Cauliflower Pizza
May 17, 2017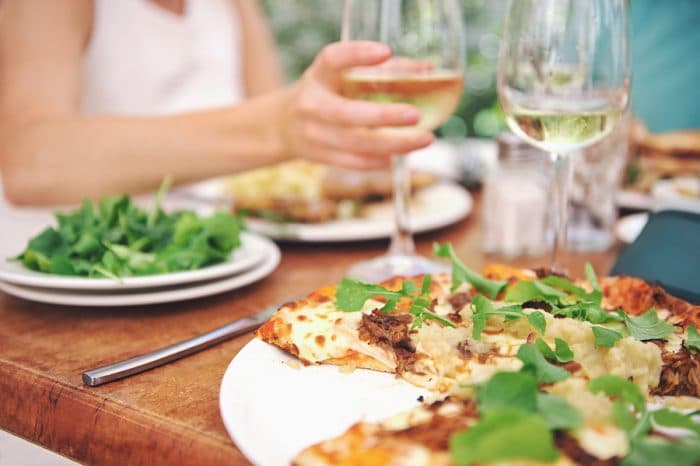 Here's a fiber-rich, nutrient-packed, grain-free twist to pizza.  This recipe shows you how to make your own cauliflower pizza crust, but if you're pressed for time, or just not into the whole from-scratch thing, then try these amazing remade crusts from Cali'Flour Foods.
Ingredients for crust:
1 head cauliflower, remove stalk
1/2 cup shredded mozzarella
1/4 cup grated parmesan cheese
1/2 teaspoon dried oregano
1/2 teaspoon kosher salt
1/4 teaspoon garlic powder
2 eggs, lightly beaten
Directions:
Preheat oven to 400 degrees. Line a baking sheet with parchment paper.
Break the cauliflower into florets and pulse in a food processor until fine. Steam cauliflower and drain well. Let cool.
In a bowl combine cauliflower with mozzarella, parmesan, oregano, salt, garlic powder, and eggs. Transfer to the center of the baking sheet and spread into a circle, resembling a pizza crust shape. Bake for 20 minutes.
Add desired toppings (see below) and bake for an additional 10 minutes.  If you are using the pre-bought crust, follow the cooking directions on the package.
Toppings:
Here is where you can get as creative as you like, so have fun!  But here are a few of my favorites…
You can keep it traditional with tomato sauce, fresh mozzarella, and fresh basil leaves (add basil after baking).
You can add a Spring twist by using basil pesto as the base, with sliced cherry tomatoes, and fresh mozzarella.
You can make is a Summer crust with sliced cherry tomatoes, diced avocado and 1/2 cup of corn.