Brussels Sprout Salad with Manchego
October 9, 2015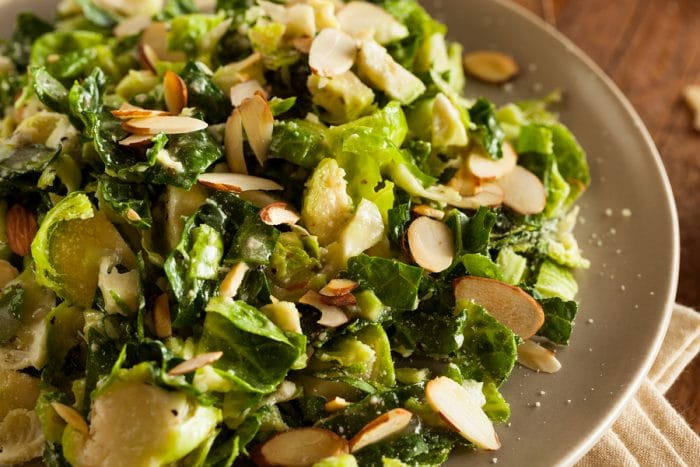 Brussel sprouts are the quintessential fall vegetable and for good reason, they are delicious and versitile!  While Brussels sprouts are usually heading up the side dish section of the menu, a version of this salad has often played the staring role for me while dining at Hub 51 in Chicago, when I was living there dietetic internship, and I am sure this brussels sprout salad will make some prominent cameos for you too!
Ingredients:
3 cups of Brussels sprouts
2 Tbsp slivered almonds
2 Tbsp dates, chopped
2 Tbsp manchego cheese, grated
1 Tbsp parmesan cheese, grated
3 Tbsp mustard vinaigrette: 1/2 tbsp whole grain mustard, 1 Tbsp apple cider vinegar, 3 Tbsp olive oil, kosher salt and fresh cracked pepper to taste.
Directions:
Wash, trim and peal apart leaves from Brussels sprouts.
Bring water to a boil, add leaves for (literally) 5 seconds, remove and blanch in ice water.
Once cooled, dry leaves and add to a mixing bowl with dates and almonds.
Toss with dressing and add cheese on top. Serve and eat.