Brussels Sprout Salad with Manchego Cheese
October 9, 2015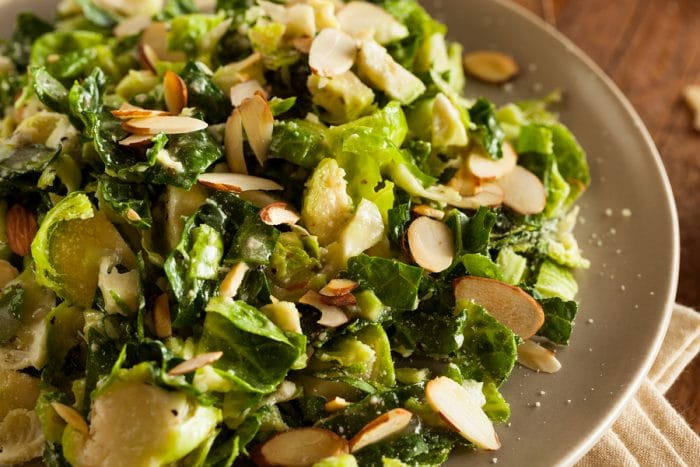 I am obsessed with this Brussel Sprout Salad with manchego cheese.  It's crunchy, delicious, easy to make, and loaded in fiber and antioxidants.  When I was a dietetic intern in Chicago I would eat a version of this salad at Hub 51 so often that I knew I would soon be adding it to my own rotation.  Brussel sprouts are definitly the quintessential fall vegetable and for good reason, they are delicious, versatile, and full of filling fiber.  This salad is also a huge crowd pleaser for when you're having people over or heading to a potluck.
Ingredients:
3 cups of Brussels sprouts
2 Tbsp slivered almonds
2 Tbsp dates, chopped
2 Tbsp manchego cheese, grated
1 Tbsp parmesan cheese, grated
3 Tbsp mustard vinaigrette: 1/2 tbsp whole grain mustard, 1 Tbsp apple cider vinegar, 3 Tbsp olive oil, kosher salt and fresh cracked pepper to taste.
Directions:
Wash, trim and peal apart leaves from Brussels sprouts.  Or buy them pre-shaved
Bring water to a boil, add leaves for (literally) 5 seconds, remove and blanch in ice water
Once cooled, dry leaves and add to a mixing bowl with dates and almonds
Toss with dressing and add cheese on top. Serve and eat