Apple Cinnamon Grain-Free Pancakes
September 11, 2017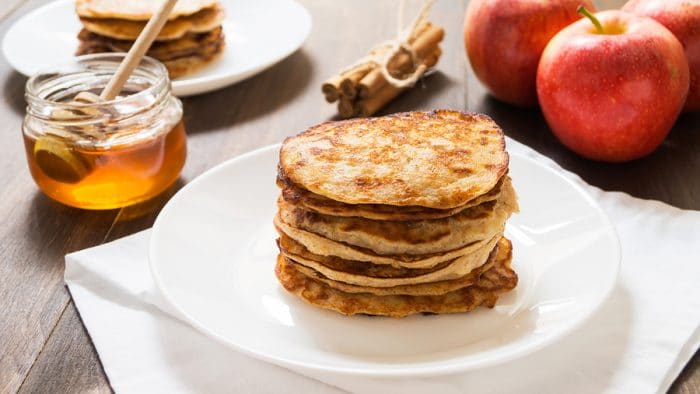 These grain-free pancakes combine two of my favorite foods: apples and cinnamon!  Apples are a great source of fiber to keep you full and prevent over-snacking, while their antioxidnats will help you fight off colds. The cinnamon in these pancakes will also support your immune system, plus help keep your blood sugar even to prevent diabetes and other chronic illnesses.  This recipe makes 8 small grain-free pancakes and serves 2-3 people, but can be doubled or even tripled if you are having people over for Sunday brunch.
Ingredients:
2 eggs
2 bananas
1 apple, peeled and diced
2 tablespoons of almond butter
1 & 1/2 teaspoons of cinnamon
1/2 teaspoon of nutmeg
1 teaspoon of pure vanilla extract
1 scoop of collagen powder (optional)
Cooking spray or olive oil to grease the pan
Directions:
In a small bowl, mash bananas with a fork.  In a medium bowl, whisk together 2 eggs.  Add mashed bananas and diced apples to eggs and stir.
Add almond butter, cinnamon, nutmeg, vanilla, collagen to egg-apple mixture and stir until well combined.
Lightly grease frying pan with cooking spray or touch of olive oil, and set to medium-low heat.  Use a ladle or large spoon to pour pancake batter onto hot pan. Pancakes should be smaller in size than traditional pancakes.  Flip when ready, or when edges start to pull away from pan.
Top with additional sprinkle of cinnamon and enjoy!